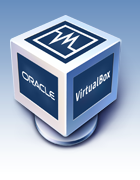 By default VirtualBox emulates a standard VESA card with 8 MB RAM for the supported guest OSs. I'm not sure why that only gives 800×600 resolutions, but it is definitely very annoying. To have more advanced control over resolutions you can install the "Virtualbox Guest Additions":
VirtualBox has special software that can be installed inside Windows and Linux virtual machines to improve performance and make integration much more seamless. Among the features provided by these Guest Additions are mouse pointer integration and arbitrary screen solutions (e.g. by resizing the guest window).
Cool! Been searching for a week where to download these additions, but as it turns out it's an .ISO located in the program directory of "xVM Virtualbox" … figures. You have to mount it as a Virtual drive and execute the installation from within the guest OS. When you're using Linux (probably some clone of Ubuntu) things are not so straightforward as in a Windows Guest OS. You might find these instructions to be helpful.